Interest Rates Causing Prices to Slow or Stall July-Aug 2023 for St George Real Estate Market in the lower to mid price ranges
Posted by Brian Habel on Friday, August 4, 2023 at 9:14:47 PM
By Brian Habel / August 4, 2023
Comment
With interest rates not particularly going down like was projected, basically because the economy is doing well and continues to do so, then these graphs for July 2023 are showing how this is impacting inventory levels for the price range of homes between 250K-500K (this graph representation is a tight niche of 20 sold homes, so it is not general to the entire market, just on the lower end of home sales). The uptick blue line from June to July shows the number of homes coming into [new listings onto] the market being greater than the ones going out or selling.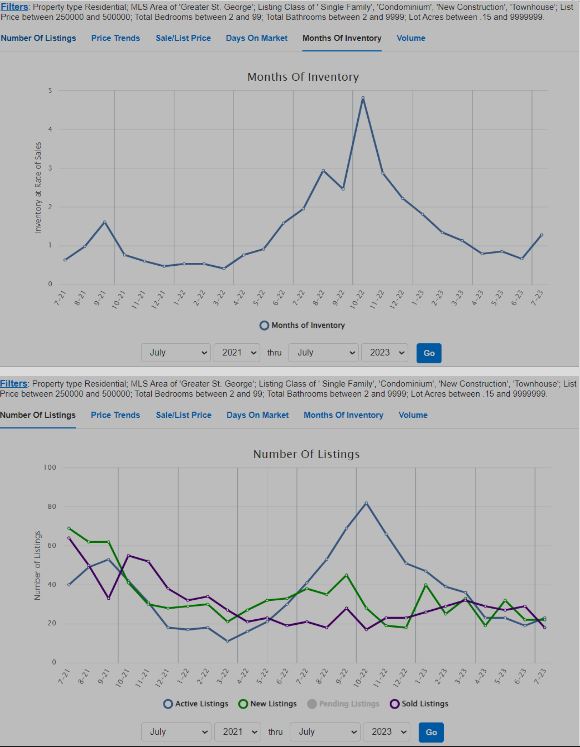 This normally will slow prices going up, stall them altogether, or in the case they were about to fall, cause them to fall. but remember month to month can fluctuate. For all those looking/needing to buy, remember if the rate goes up, we can still ask the seller to pay the difference for you to buy back down the interest rate to what you would have wanted- ask for the money to cover that rate-buy-down as part of Seller-paid-closing-costs.
Basically, while inventory levels remain low, it is hard to tell what prices are doing- perhaps stalling a bit in these lower price ranges. Interest rates not only affect buyers wanting to buy BUT also new sellers braving the market to list their homes, precisely because they might not be able to buy somewhere else if at a higher interest rate than what they can afford or want. Interest rates are impacting and slowing sales, but by how much has yet to be determined.
Criteria used: 250K-500K, Greater St George (St George, Santa Clara, Ivins, Washington) Single Family & Condo/Townhomes, 2+ Bedrooms, 2+ Bathrooms, .15+ Acre Lot (basically a minimally small back yard starts at .15 Acres)