Homes for Sale in Bloomington Hills
Bloomington Hills Homes for Sale are built out around the St George Golf course with most homes having been built in the 1990's and kept up well or renovated as needed. On one end we have Bloomington Hills South and the other end Bloomington Hills North. Each has its own park. Read More
Homes for Sale in St George Utah - Neighborhoods
Bloomington Hills Homes for Sale
November 28, 2023
---
Bloomington Hills Homes for Sale
Bloomington Hills Homes are modest to nice with most having received some updating. A few modern or contemporary are mixed in with lots that were built on later. The homes not only appreciate great parks, but also many of them appreciate great views of the local cliffs or of downtown St. George with Pine Valley Mountain towering up and behind it. Many enjoy a park located near by or golfing fairways. The motivation to buy real estate in Bloomington Hills are many. These include the awesome local schools to include Desert Hills schools, an even mixture of BOTH young and old, views, parks, safe established area, paved walking, running and biking trails, edge of town adventures, variety of terrain and mixture of colors being the red dirt & rock, St George Golf Club, etc.
Search Bloomington Hills real estate listings:
Bloomington Hills Real Estate Home Values & Characteristics (Master List)
SF vs CT
100% Single Family, 0% Condo/Townhouse
Price
Overall: 250K-460K (Updated 4/20; Going off last 2 years solds)
Year Built
Mostly 1980-2005 Year Built Homes
Bedrooms
Predominant 3-5 Bedroom Homes
Avg Sq Ft
Predominant 1400 to 4000 Square Feet
Levels
73%- 1 Level Only; 27%- 2 Levels
Sold Rate
145 Solds over two years time or an average of 6 homes per month
-Known For-
Central Parks w/ Kids Equipment, Tennis, Volleyball and Walking Trails, Mix of Old & Young, Established, Walking, Biking, Removed & Safe, Views
The listings in this area are composed of all single family homes. The homes range in price anywhere from 250K on up to 460K, are 1400-4000 square feet (most between 1400-2800 sq ft), are built from 1980-2005, and about 6 homes per month are sold.
You will not get a tract housing feel at all in this neighborhood, not even close. All the homes are unique and different from one another, yet still seem to be kept nice. With the roads winding and curving, accomodating a golf course, you will feel this is a unique place and area to find your perfect home. There are not many for sale at one time and so values have held their own because of its seclusion and level of nicety. Please let us help you with your search when it comes time to look at homes in this or any other area.
Bloomington Hills Information
When it rains and the dirt turns even a darker red and the sky lights up with a mixture of weather clouds and sunsets, then the air itself can seem to glow red and take your breath away. Most of Bloomington Hills while somewhat older, is quaint & pretty and is laid out nicely with access to to town two different ways, one by freeway, the other not.
It has a myriad of churches and schools. The schools are not in the center, but off to the side or back through on Brigham Road, which road goes up over a hill to the freeway. So, it is sort of sheltered in its own pocket, just the right distance from the busy hustle and bustle of higher trafficked roads.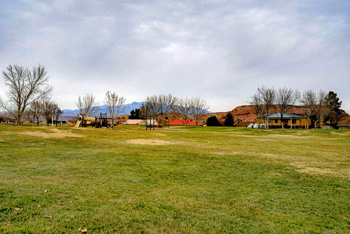 Bloomington Hills Park in the south has been nicknamed Circle park because it is shaped in a circle and the road goes right around it. It is big enough for a soccer or football game, plus some for swing sets with jungle gym and a basketball court and covered pavilion with picnic tables where many family or neighborhood cook outs are held. Kids are some times found safely playing night games while parents have a comfortable sense that they are OK.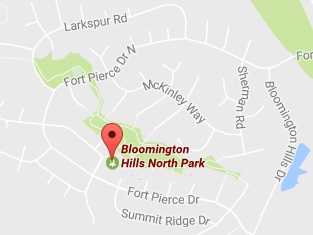 On the other end we have Bloomington Hills North Park that forms the center of that neighborhood. It is often referred to and appropriately nick named Long Park because it is a half mile long. It is a little hilly and narrow, but features lots and lots of grass and the walking trail diverges in two places to form two loops, so it is not that skinny in some places. It totals about 10 acres of grass. There are paved trails that feature benches to sit at when you get tired, or if you would like to take in the scenery of it or enjoy other park goers. Also, one can take in the variety of homes that back up to the park. A fair amount of joggers or bikers come through because it hooks into the rest of the trail system that feeds all the trails down in along Virgin River. Running enthusiast can go crazy. Many dog walkers can be seen. The park connects across Fort Pierce drive, to another small park skirting around 3 tennis courts called Larkspur park. These parks have lots of jungle gyms and swings and slides for little kids to enjoy and plenty of picnicking.
In the video below I am driving east on Brigham Road just past Bloomington Knolls and taking a left hand turn onto Bloomington Hills Drive. At the start I had just driven through the area of the Desert Hills High school and Bloomington Hills elementary. As I take a left on Bloomington Hills drive I am headed north at the southern part of Bloomington Hills South, and if I had kept driving I would be approaching Bloomington Hills North.
Parts of Bloomington Hills North, to include Sienna Canyon, will ascend up onto the side of the hill offering a bit better views.
Bloomington Hills is composed of a good mix of middle aged, young and old. In one cul-de-sac the demographic profile is composed of 2 widows, 3 retired couples, and 8 families. Of those eight families two have young kids and the rest have middle school-aged kids or teenagers with at least one having left the nest.
Bloomington Hills Market Statistics
Please feel free to have us do a custom report for you. This market report consists of Sold and Active listing activity for the last 3-4 years [broken out in monthly bars] in one easy to read bar graph. It will tell the current [up against past] Inventory Level and Absorption Rate (how many months it will take for the current Actives to sell if no new ones come onto the market).
Neigbhorhoods Near Bloomington Hills