Homes for Sale in Bloomington
Bloomington is the home of older, more rustic, established housing, being built out around a golf course country club. It is secluded with the Virgin River helping to form its eastern border, quaint and having a mid to upper echelon of price point and almost a ritzy feel, at least back in its day. Read More
Homes for Sale in St George Utah - Neighborhoods
Bloomington Homes for Sale
November 28, 2023
---
Bloomington Homes for Sale
Most of the Bloomington Homes for sale have been updated and have the extra larger sized propery to go with it, this alone making it attractive along with its more mature landscaping.
Search Bloomington real estate listings:
Bloomington Real Estate Home Values & Characteristics (Master List)
SF vs CT
77.5% Single Family, 22.5% Condo/Townhouse
Price
Overall: 250K-350K
Year Built
Mostly 1975-2005 Year Built Homes
Bedrooms
Predominant 3-5 Bedroom Homes
Avg Sq Ft
Predominant 1100 to 2200 Square Feet
Levels
68% 1 Level Only, 32% 2-3 Levels
Sold Rate
216 Solds over two years time or an average of 9 homes per month
-Known For-
Upper-Mid Echelon, Rustic, Golf Course at Center, Older, Established Landscaping, Quaint, River Boundary
The listings in this area are composed of 3/4 homes and 1/4 condo/townhomes. The homes range in price anywhere from 250K on up to 350K, are 1100-2200 square feet, are built from 1975-2005, and about 9 homes per month are sold.

Area Attractions
Mature landscaping, wider ranch style homes, some circle driveways, tucked away streets up against the golf course, some condo/townhouse developments, indigenous rock landscape with red rock cliffs and more lawn areas all are part of this grand and illustrious area we call Bloomington.
Bloomington Drive goes in a complete circle encapsulating both the golf course and the most part of the development. Other main roads include Mulberry Dr, Baneberry Dr, Paiute Rd, Navajo Dr, Tonaquint Dr and Man O War Road.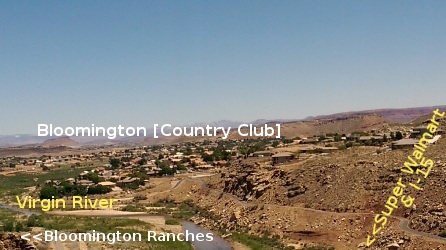 These last two carry your into different areas. The last one carries you over the Virgin River on the Man O War bridge. Notably, just on the other side of the bridge on "The Ranches" side, is the Bloomington Park.
It has many softball fields, children's playsets, covered pavilions, picnic tables, restrooms, Frisbee golf and a basketball court. The softball fields get well used during the Senior Games and other events.
There are two other parks in Bloomington; Petroglyph Park and Christensen Park.
Bloomington Market Statistics
Please feel free to have us do a custom report for you. This market report consists of Sold and Active listing activity for the last 3-4 years [broken out in monthly bars] in one easy to read bar graph. It will tell the current [up against past] Inventory Level and Absorption Rate (how many months it will take for the current Actives to sell if no new ones come onto the market).
Neighborhoods Near Bloomington