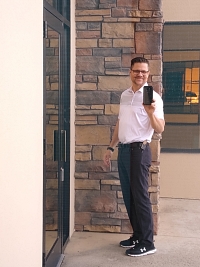 Brian Habel represents the region's finest in real estate agents. As a Realtor, he can take care of your sales questions and properties with exceptional skill using the most innovative technologies currently available. Brian Habel offers ultimate privacy and security, speed, and efficiency. His years of full-time experience have given him a clear understanding of the mindset of home buyers and sellers and a thorough understanding of the regional marketplace variables.
Much of the time you can get hold of Brian by phone or email above. Leaving a text on the cell phone is sometimes the best way to go.
The history and legacy of this area go back to pioneers who tamed the land against the arid sweltering heat. Who would have stayed? They stayed out of sheer determination. Now, partly the 'truckers/tourists' byway along I-15, it is every bit as unique and less desolate than all the Midwest crazes put together, mainly because of the high desert National Park mountains you bump into. It mixes the best of both worlds and the retirees escape the wetness and winters that canker their bones. It appeals to the commercial and business sector too because it is so centrally located with a new St George Regional Airport. Walmart & Dollar Tree are just some big commercial businesses that have settled regional hubs here.