Homes for Sale in Desert Hills Schools Boundary Area
Many people intent on finding homes for sale in desert hills area or the high school boundary area, have often looked for a place where they could find all the homes for sale or that would allow them to have their kids attend those schools associated with the Desert Hills High School footprint area- its boundaries encompassing other elementary schools, Sunrise Ridge Intermediate and Desert Hills Middle school. Look no further, all the homes are listed below this content.
A lot of the associated interest may be fueled by the new(er) construction in the Washington Fields or Little Valley areas, which encompasses this aforementioned area and schools. It is a nice area... for the elementary, middle and intermediate schools mesh well together and bring some green fields as a welcome contrast to the deserts local hills and flat areas.
Desert Hills area schools have a great reputation of being friendly and in having higher test scores. Band, debate and sports are emphasized and kids seem to develop an overall well-rounded education with emphasis of various activities to be involved with.

All the Desert Hills schools homes for sale are listed with this high school boundaries map- showing the areas that the real estate search encompasses below.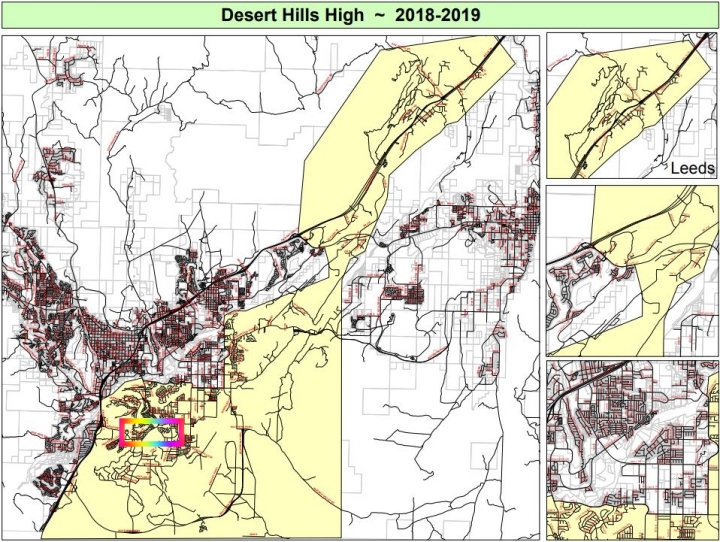 Search Homes for Sale in Desert Hills Schools Area:
This search is a custom configured search for all homes in the Desert Hills schools area and auto-populates ALL the listings for this area.
Related Searches
Little Valley has busted at the seams into the Washington Fields. The increased growth has spurred on the development of a new high school having its start in the fall of 2019 with its middle school already taking on kids in 2018. See all the Homes for Sale in Crimson Cliffs schools area.
Smaller Search Area Communities Inside Desert Hills H.S. Boundaries