Homes for Sale in Downtown St George
Downtown St George is very quaint. Here you have in history a pioneer prophet who had an eye toward the future to make all the roads wider. More info...
Homes for Sale in St George Utah - Neighborhoods
Homes for Sale in Downtown St George Utah
December 5, 2023
---
Downtown St George Homes for Sale
As such even the entire through streets in the downtown area that have homes on them are wider. The downtown area is shaped like an upside down triangle with the top being formed by St George Boulevard which is more like where the main thrust of spring break or vacationers would think to "drag the Ave". It has some taco, fast food and ice-cream places along it, typically used in the past to get a bite to eat. The left leg of the triangle is Bluff Street. The right leg is I-15 as it comes up through St George.
Search Downtown St George Real Estate listings:
DragonSingle Family Real Estate Demographic (Master List)
SF vs CT
45% Single Family, 55% Condo/Townhouse
Price
Overall: 175K-250K
Year Built
Mostly 1945-1985 Year Built Homes
Bedrooms
Predominant 3-4 Bedroom Homes
Avg Sq Ft
Predominant 1200 to 2000 Square Feet
Levels
71% 1 Level Only, 29% 2-3 Levelsd
Sold Rate
127 Solds over two years time or an average of 5 homes per month
-Known For-

This search is a custom configured search unique to Downtown St George and auto-populates ALL the listings for this area.
Downtown St George and its older housing has being updated allowing tourism, local dining life and expanded Dixie University life and small business locations to thrive.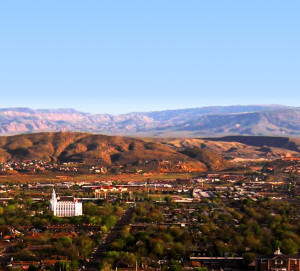 St George's history includes early colonizer and LDS prophets influence in the city design. From Salt Lake City to St George, Brigham Young had streets run off the numbering system where downtown homes run along a wider street design from the beginning. As such, there is not a huge segment of congested compact window shopping for a downtown area, maybe one or two blocks closer to the renovated downtown historic district where Main Street intersects with St George Blvd and Tabernacle (where you'd think 100 South starts, but that is one block South still).
The downtown area along the St George Boulevard has been made to have a medium of landscaping with historic lights lining the entire way. As it crosses main street and you take a left or right, for two blocks in each direction you have the same historic lighting. Right there along that portion of main, as you just cross tabernacle, there is a portion of blocks stretching West that have been a restored park-like area with waterfall and man made water way leading down to the new Washington County Library. Many historic buildings have the same rough hew looking red brick lining the buildings for a complete historic feel.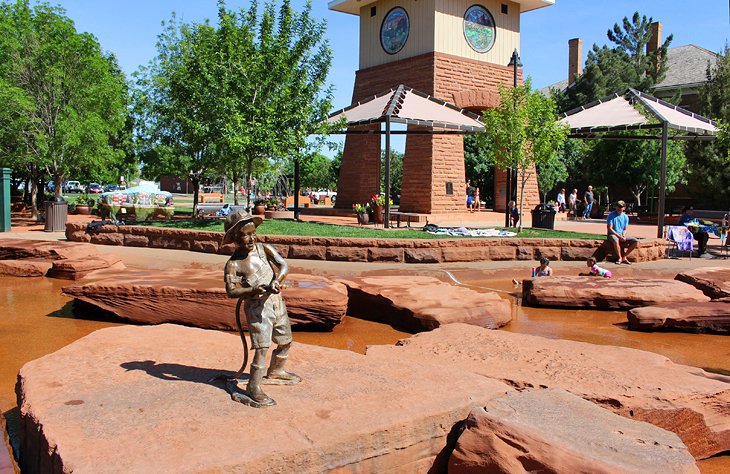 Along that right triangle leg against I-15 runs Dixie State University. So, a lot of student based housing and investor housing exists downtown with the homes being mostly older with some restored. Another couple major structures include the hospital and last but not least, the St George LDS temple which you can't miss. The temple rises up 3 or 4 stories into the air, being solid white against local red rock areas, it really stands out and when at night being lit up.
Downtown St George Market Statistics
Please feel free to have us do a custom report for you. This market report consists of Sold and Active listing activity for the last 3-4 years [broken out in monthly bars] in one easy to read bar graph. It will tell the current [up against past] Inventory Level and Absorption Rate (how many months it will take for the current Actives to sell if no new ones come onto the market).
Neigbhorhoods Near Downtown St George