Homes for Sale in Enterprise
One of the main attractions to Enterprise is the Enterprise reservoir, which has camping, boating and fishing. Read More
Homes for Sale in Enterprise Utah
December 5, 2023
---
Enterprise Homes for Sale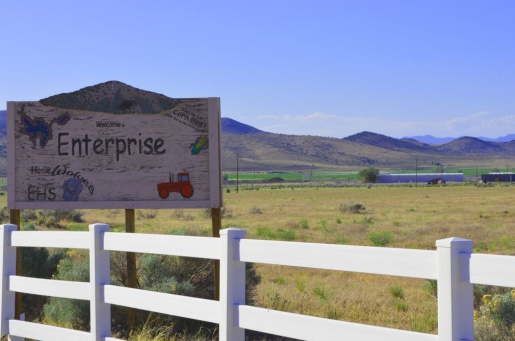 A relatively small agricultural community occupying 2.91 square miles with a population of 1,837 according to the 2017 Census Data. Enterprise Utah is located on north and west of St George Utah. It is along US 18 at the south end of the Escalante Desert near the mouth of Shoal Creek at the upper most northwest corner of Washington county.
The cooler climate the hills are green most of the time. While Enterprise is fairly removed, it does provide more moderate pricing of homes and a slower rate of increase in comparison to the prices in the St. George Area. Because of recent information obtained through the "grape-vine" we believe that there could be a significant increase of building there. Significant is relative in this case, as Enterprise is not that big. One recent report, from September 2005, makes mention of about 30 smaller 1200-1400 square foot homes on smaller parcels (3 bedroom, 2 bath) starting at 139,000 and staying fairly consistent in pricing throughout the project, based on reports. If you would more information on these homes, give us a call.
History
Many Enterprise settlers came from Hebron, currently a ghost town located further up Shoal Creek. Due to the lack of water and an earthquake in 1902 the local mines shut down. About one hundred families migrated farther down Shoal Creek and established a new settlement called Shoal Creek.The name was changed to Enterprise and it has been said this was done to reflect the settlers enterprising ability to adjust to the unexpected.
Geography
Climate Enterprise has a milder climate with temperatures about 15-20 degree cooler than St. George.
Education
Enterprise High Grades 7-12 (P. O. Box, Enterprise, UT 84725 Phone: 435-878-2236 Fax: 435-878-2510) Beaver County
Enterprise Elementary Grades K-6 (Box 549, 216 S 100 E, Enterprise, UT 84725 Phone: 435-878-2236 Fax: 435-878-2510
Enterprise Real Estate area