Ivins Utah Real Estate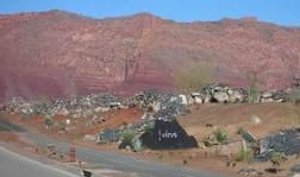 Ivins Utah real estate is among the most prestigious real estate that the Greater St. George Utah area has to offer. Located about 5 miles out of St. George, there is really no un-built empty space in between. The drive can be taken through Dixie Downs and Santa Clara by way of Sunset Boulevard or it can be taken more up against some rock cliffs that hedge there way dividing a higher elevation route that if taken goes up into higher elevations of the northwest Washington County area of Winchester Hills, Dammeron and Diamond Valley, out to Veyo, Central and Pine Valley. Well, route out to Ivins is called Snow Canyon Parkway.
The cliffs on the right or north, as you travel out, are being built up against with subdivisions called Castle Rock, The Cliffs, Entrada, Kachina Springs and Kachina Cliffs to name some notable ones.
As you travel along Snow Canyon Parkway on your way out to Ivins, you travel on a two lane road bordered by indigenous rock walls and landscaped road way divider conducive to the environment and the exclusive developments that are part of coming into Ivins.
What it feels like as you approach a horse-shoe like ending into the Big Red Mountain and canyon intakes of Snow Canyon- it feels like you are traveling into a national Park area. While it is not the big towering rock cliffs of Zion Park, it is a State Park area into Snow Canyon State Park. So, a good job has been done towards keeping the area friendly to the black lava rock and red rock environment. Much of Entrada, and the newer areas featuring 2 million dollar homes on a golf course, no less, have been built out in and among the indigenous black lava rock.
Some of the older parts of Ivins are typically on bigger lots, about 1 acre in size. Some of these are being divided, even if only to take advantage of a flag lot in behind. But the less exclusive areas tend to be more inward to the center of town or older parts of Santa Clara. Some of these areas that are removed from the cliffs have good views of the U or L shaped red cliff/mountain area, in which case older estate like homes have been built and augmented by newer and nicer construction.
Not much room exists out in Ivins before that area will be filled in with new construction or developments. So, values have increased and will keep increasing. Yet there are still opportunities for those looking because it is still far enough out there that only locals end up driving by new opportunities. In other words, it is still a very good place to invest and settle in for those due a nicer view type existence. You can still locate there for far less money and have spectacular views for far less than living in some of these places in California or Las Vegas. I do not know how much longer that will be the case. The St George area was named the second fastest growing city in the nation recently by the census bureau.
***To be able to search the listings go to: Homes for Sale in Ivins Utah, also for more information on Ivins.