LDS & St George Culture
The LDS influence on the St George culture is undeniably significant. It is comprised of members of The Church of Jesus Christ of Latter-day Saints, nicknamed the 'Mormons', they are more comfortable with the appellation of Latter-day Saint (LDS). They are a people whose predecessor members settled the area, having fled persecution to be able to practice freedom of religion. They comprise approximately 50-60% or more of the population. The Latter-day Saints are known for their family values and many would say that it reflects for a better sense of community at large and as a "safer" place to raise a family. While most, I think, would say they are more neighborly.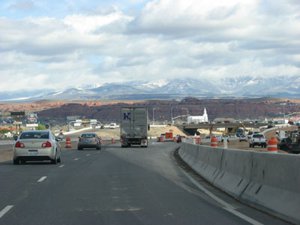 St George Utah has a historic root hold in the values that shaped America. Early members of the Church of Jesus Christ of Latter-day Saints fled persecution in Missouri by creating the Mormon Trail, helping to blaze the Pioneer trail to the west. They sought religious freedom. Next came the gold rush, a wave of people that might have allured the early Mormon pioneers to pull up stake out of Salt Lake City. Eventually America's railroads would be joined together momentously in Salt Lake City, Utah. However, things greater than gold and trains possessed their veins.
It was not what the world could provide, but what their God could provide. They carved out their niche raising their temple to their God. Brigham Young, early prophet and successor to Joseph Smith, the first prophet of the Restoration sent saints to settle St George. Those saints possessed with heat (no AC at that time), beat the saints in Salt Lake in building a temple to their God.
The basic tenant of the faith claimed not a Reformation of early Christ's doctrine, but a Restoration of it, to also possess, actual authority given from heavenly messengers to Joseph Smith, Brigham Young's predecessor. He claimed a Restoration back to the former organization of Christ's church with apostles and prophets, from Ephesians 4:11-14.
11 And he gave some, apostles; and some, prophets; and some, evangelists; and some, pastors and teachers;
12 For the perfecting of the saints, for the work of the ministry, for the edifying of the body of Christ:
13 Till we all come in the unity of the faith, and of the knowledge of the Son of God, unto a perfect man, unto the measure of the stature of the fullness of Christ:
14 That we henceforth be no more children, tossed to and fro, and carried about with every wind of doctrine, by the sleight of men, and cunning craftiness, whereby they lie in wait to deceive;
These temples teach and enthroned the family in an evolution of Gods children to come back to live with him in heaven through acquiring an orientation of loving and sealing relationships within families. These family lines are "sealed" in ordinances from God, from existing family lines all the way back to Adam and Even through the world's most massive genealogical research ever conducted or being conducted currently. The work is done not just for themselves, but as in a similar act of symbolic 'atonement', or as in what Christ did, act in contract with Christ to help serve others interests, in His work to help do for others what they could not do for themselves while on earth- they get baptized for the dead and sealed in the family lines. These individuals then through adequate time have the opportunity to accept these ordinances done on their behalf 'in order to be saved' with God in the end and in family units. Some of the world's foremost experts in large data storage capacities came out of this work that continues.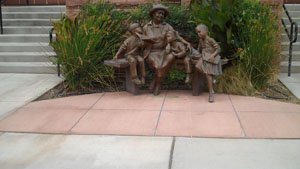 These convictions are taught and espoused inside the faith to approximately half of the population base in St George Utah being Latter-day Saints (LDS) and in Utah for that matter. This obvious emphasis on family tends to make a difference in the lives of these families and population base. The early sacrifices of building America out of the dirt and in St George, the "fiery red dirt", helped shape many of the lives and characters of their ancestors who now live here.
A major teaching that ennobles the spirit inside of this faith pertains to a principle that was fought over, even before the world began, in heaven, among the hosts. They believe we were all there, now having a memory block placed for which we "prove ourselves" under or are tested as to our faith. But this war culminated over a principle, that in going down to earth, Gods children would get to "choose for themselves", called "Agency". 1/3 part of heaven did not want the consequences of chaos of choice to make it to where many of us would not "return" or make it back to heaven, as part of the opportunity to become more like God, the Father. This alternate plan did not obviously respect how Christ's suffering would atone for sin and bring us all back. Thus another plan, made by the devil and his followers was perpetrated where by more of the plan of force and constraint or coercing would be used. These were cast out of heaven and denied a body or being able to come here to be tried and tested like us.
Thus, when the Latter-day Saints (LDS) teach and preach that they have tolerance, they do it with a mind toward how the many brothers and sisters they consider we all are, do not believe in force. Also, nor do we always know what will take place in time with those we interact with, the greater principle of forgiveness and love overwhelming any pre-conceived notions of judging another- such that one's sins of judging or sizing disallows oneself to progress without greater love and acceptance of others. Thus, tolerance of other religious belief or of culture is well tolerated, at very least on the doctrinal level. Their 11th article of faith states:
11 We claim the privilege of worshiping Almighty God according to the dictates of our own conscience, and allow all men the same privilege, let them worship how, where, or what they may.
This article of faith will prevail and rule the day for Americans moving to St George to be accepted in the most fundamental ways that recognize the common values that join us and keep us in the greatest of civilities; and if can, affections.
To me, a Latter-day Saint, these values of respect and sacrifice help to make this area of St George Utah, very American and A Special Place.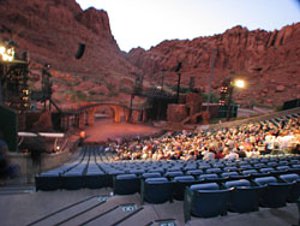 The translation is celebrating Gods southern Utah red rock beauties and National Parks and nature. It is celebrating schools free of drugs and gang elements where children can be raised with little to no bullying. It is freedom of religion and toleration of people no matter the race, creed or color.
This is the America I believe in, and these are the values that I believe are the values that cherish the dignity of the human spirit. This is celebrated both at Tuacahn for the performing arts as well as one hour north in Cedar City Utah, the world famous Shakespeare Festival. It is celebrated at the super markets where people actually smile and are friendly. It is when you lock your car only as an inconvenience, not because you sense that you really needed to. It is graffiti free freeway overpasses and loiter free street corners because families are 'doing their thing'.
Community parades, developing infrastructure, clean streets, buzzing new businesses and shops, gracious people, little kids splashing in fountains, cars giving you the right of way, school plays, libraries providing literature and entertainment, the mayor quoting "old" values in poem, non-LDS economy experts telling how the Judaeo Christian ethics are saving our local state economy making it top in the U.S., courting buyers who gave their lives to one of the largest Catholic diocese in service, and thought the people here represented some of the most friendly they've come to appreciate. These things and these values are part of what make St George such a great place to live!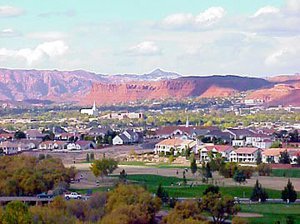 It is when you see the aged flock here as one of top ten places to retire, because retirees recognize area resources and attractiveness conducive to retirement. Much of our green belt comes to include our communities being built out around many golf courses. It is when you meander down the fairway to look up to Pine Valley mountain, that gets snow capped in the winter, that calls out to you to rise to a higher level. Because when you look down to the city-scape between you and it, you feel the hope of our fathers being confessed in tried and true sacrifice.
I invite the brave and unscathed to flock to St George and grab a piece of this real estate, before the word gets out that this really is A Special Place!