National Association of Realtors
2005 Profile of Home Buyers and Sellers
This report, referred to below from a local title company, is the National Association of Realtors study (NAR). It reports how Sellers got 16 percent more for their properties when an agent was involved vs. selling it on your own- For Sale By Owner (FSBO). That adds value to what we do because the Seller takes care of nothing and gets more.
In other words, after subtracting the 6% the realtor charges, you still walk away with 10% more money in your pocket, than if you sold it yourself. They have also shown how a realtors are increasingly hired over the choice of selling it on your own.
Surprised! Don't be, just get on board with Brian because your odds are even greater. Simply put, you don't do any of the work. Let us handle making sure the Buyer is qualified, that your contract and dates benefit you, that you have an excellent escrow company ready to serve you and your bottom line. It is a no brainer. Come on, just put it in the hands of an expert. Compelling information that is factually based in a widely referred to and genuine consensus based study.
Add to that the power of your St George Utah Realtor and you may be hard pressed to want to try it on your own. Hey, I recognize that it is America and many have and do sell their own homes. I would just point to this study to reveal something. Having conducted many a buyer around town before, I would share this. That their are two kinds of buyers. Ones that price shop and ones that "feel" shop. Now, very few of my Buyers have actually been interested in the For Sale By Owner homes. I think it is because they know they are getting top service with their realtor and they have enough to look at without having to "dig" for a home, plus they have it covered with "all" the realtor sold listings being featured. It is called speed and ease in the looking process. They only have so much time to get this job done. It is not the garage sale mentality and I can tell you that they have money. These buyers I call the RETAIL BUYER where price, although an issue, is not the ONLY issue.
Most FSBO's eventually list with a real estate agent, did you know that? We work hard to serve EACH seller and will not grow too big at the compromise of excellent service because as I know-- Your home is on the line. "Ring, ring... are you there Brian", "Hello, yes I am".
Now if you clicked on the link to go here, you have been informed, so call now before you think of something else, like trying to sell it on your own. Utilize our market analysis of comparable home sales, at the beginning to get your price where it needs to be on the retail market, and quit worrying about things that do not apply to reality. Try to get moving now because once you pick up the phone and call Brian, you can feel comfortable and rest at ease knowing that everything is going to be taken care of. Isn't that what you want?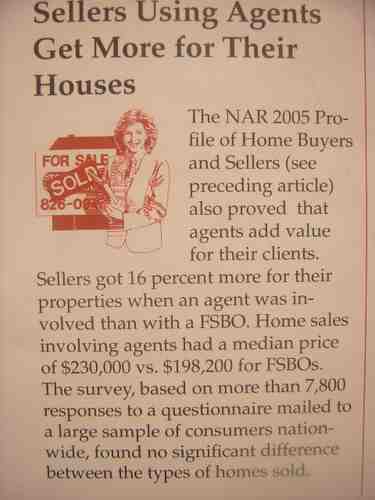 Real Estate Digest from local title company
(The source from which the article on the right comes from.)