Homes for Sale in Red Cliffs
Red Cliffs Homes for Sale typically range between $225,000 and $300,000 and consist of 81% single family homes, the rest being condo or townhomes. For more info...
Homes for Sale in St George Utah - Neighborhoods
Red Cliffs Homes for Sale
June 10, 2023
---
Red Cliffs Homes for Sale
This area is known for its functionality- close proximity to stores, restaurants, theaters, and schools for families and individuals and a few retirees. Local schools are well known to be pleasant, very accessible and rated higher than average for test scores.
Search Red Cliffs Real Estate listings:
Single Family Real Estate Demographics (Master List)
SF vs CT
81% Single Family, 19% Condo/Townhouse
Price
Overall: 175K-250K
Year Built
Mostly 1990-2005 Year Built Homes
Bedrooms
Predominant 3-4 Bedroom Homes
Avg Sq Ft
Predominant 1100 to 2200 Square Feet
Levels
76.5% 1 Level Only, 23.5% 2-3 Levels
Sold Rate
363 Solds over two years time or an average of 15 homes per month
-Known For-
Close to Stores & Town, Mature Landscaping, Schools
Red Cliffs real estate homes approx. priced at 175k - 250k, built between the years 1990 - 2005.
About 20% of all properties in Red Cliffs are Condos and the link above delves into those.

Popular Home Subdivisions
Fox Borough & Primrose Point

Newer single-family developments built by Ence Homes, but all built out so only resales are available. (Listed on the Highlighted Amenities Map below)
55+ Santa Fe at Red Cliffs

This is an all white to off-white Condo/Townhouse development that had 5 phases, most of which were built between 1993-1996, few were built between 1998-2000. HOA dues range from $160-$193.50 per month and include a club house, pool, exterior building insurance, yard maintenance, cable and sometimes water. The development contains some ponds with swans and is located just down from the mall. Seen as mostly an attractive self-contained development for retirees. (Listed on the Highlighted Amenities Map below)
Southe Pointe

Comprised of all single-family homes, it is a formally marked neighborhood in the MLS.
Amenities & Resources
The following conveniences really add to Red Cliffs' luster and not a few:
List of Amenities

Red Cliffs Mall at 1770 Red Cliffs Dr, St George, UT 84790
Boulevard Home Furnishings
Megaplex at Pineview Theatres
Deseret Industries Thrift Store
Spring Gardens Senior Living, 2654 East Red Cliffs Drive, St George, UT 84790
Costco & Sportsman Warehouse

Pine View High & Middle Schools
Pine Valley Middle School
Mall Drive & Mall Drive bridge
Fossil Ridge Intermediate & Millcreek High
Slick Park & 2450 East Park
Dinosaur Tracks Museum, 2180 E Riverside Dr, St George, UT 84790
Virgin River
Highlighted Amenities Map
Orientation Map- Zoom in to see & for better detail into even more businesses, restaurants, & resources.
Red Cliffs Market Statistics
While on average about 15 single family homes per month are sold in Red Cliffs, there are a certain number of homes that are also listed each month.
When the number of new listings exceeds the number that are sold, the 'inventory' of listings goes up. However, if the rate at which listings are selling is faster than the new listings coming onto the market, then we say that the 'inventory' is receding. At the rate that the inventory is growing or receding month over month, is what we refer to as the absorption rate. If no new listings come onto the market, how many months would it take to deplete the existing inventory at that current rate things are selling at? This is what we call the Absorption Rate or Months Inventory. The lower that number is, the greater the demand for that housing can become, and be in relation to former months.
The below numbers and graphs show the inventory levels on a month over month basis of new listings to sold listings.
Many variables influencing prices exist in a market so causation is difficult to determine. However, correlations OR some "assumptions" are made with regards to supply and demand. Basic demand and supply says that if supply goes up, demand goes down and prices too can follow. Conversely, if supply goes down, demand typically goes up and prices can as well.
The last 6 months of activity for the first half of 2017, reflects that prices could be worked on to go up with dwindling inventory levels.
Redcliffs Neighborhood Real Estate Statistics (Zip Code Area 84770):
| | Active Listings | New Listings | Sold Listings | Months Inventory |
| --- | --- | --- | --- | --- |
| Jun - 2017 | 5 | 9 | 21 | 0.24 |
| May - 2017 | 9 | 12 | 15 | 0.60 |
| Apr - 2017 | 18 | 12 | 10 | 1.80 |
| Mar - 2017 | 8 | 14 | 23 | 0.35 |
| Feb - 2017 | 15 | 16 | 11 | 1.36 |
| Jan - 2017 | 18 | 15 | 9 | 2.00 |
| Dec - 2016 | 13 | 10 | 14 | 0.93 |
| Nov - 2016 | 18 | 12 | 14 | 1.29 |
| Oct - 2016 | 15 | 13 | 10 | 1.50 |
| Sep - 2016 | 13 | 14 | 15 | 0.87 |
| Aug - 2016 | 13 | 9 | 19 | 0.68 |
| Jul - 2016 | 20 | 13 | 16 | 1.25 |
| Jun - 2016 | 16 | 19 | 15 | 1.07 |
| May - 2016 | 16 | 15 | 28 | 0.57 |
| Apr - 2016 | 28 | 17 | 12 | 2.33 |
| Mar - 2016 | 32 | 11 | 14 | 2.29 |
| Feb - 2016 | 32 | 17 | 8 | 4.00 |
| Jan - 2016 | 27 | 15 | 8 | 3.38 |
| Dec - 2015 | 21 | 10 | 15 | 1.40 |
| Nov - 2015 | 19 | 9 | 12 | 1.58 |
| Oct - 2015 | 27 | 11 | 7 | 3.86 |
| Sep - 2015 | 19 | 23 | 13 | 1.46 |
| Aug - 2015 | 15 | 12 | 19 | 0.79 |
| Jul - 2015 | 22 | 10 | 9 | 2.44 |
---
Market Absorption through the first half of 2017 for Red Cliffs in St George, Utah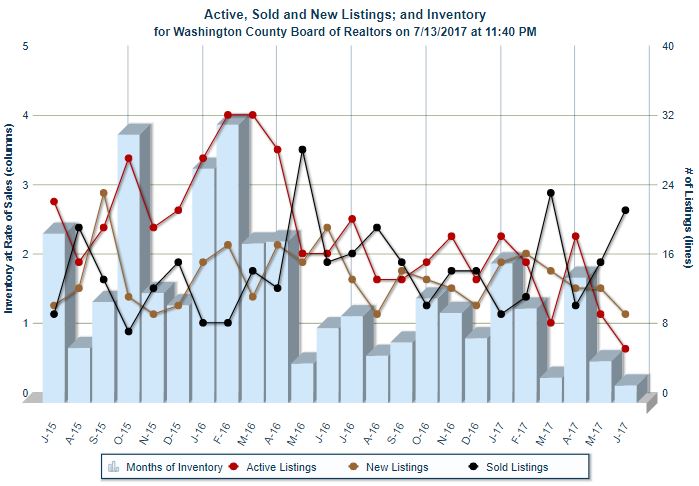 Neigbhorhoods Near Red Cliffs