Retirement Communities
If you are looking for retirement communities, then you have come to the right place. Retirement is a bit of a misnomer because many of the "retiree's" we speak with say they are more active then ever. Thus, the shift from saying retirement community to saying active adult community, etc. So whether it be 55+, Active Adult Communities or what ever your station along that more experienced road, we think you will find that St. George Utah Retirement Communities have a lot to offer.
Aslo feel free to peruse our St George Utah Retirement Resource Information including Lifestyle Living page.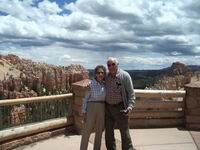 St. George Utah is among the strongest of Utah's retirement communities. Kiplinger, a well known retirement destination authority, lists St George at the top of their list for best places to retire.
The area has the ability to bless the lives of its later settlers as well as its early pioneers. The landscape and people have a charm and beauty that are contagious.
You can find additional retiree related information for Utah at our Utah Retirement page.