Southern Utah Real Estate
If you are searching for Southern Utah Real Estate then you have come to the right place!
People looking for real estate in southern Utah will be looking at home prices that are a little less than Las Vegas, Nevada. Foreclosure vacancies in St George fair much better than south of us. This and local sentiment evidence a far different market that could be in for better recovery. Most people looking to relocate to Southern Utah, will usually end up settling into the most populated region in southwestern Utah called Washington County, with St George being the county seat.
Southern Utah Area Relocation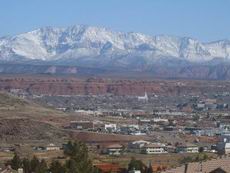 Southern Utah is bustling in growth because of its geology and geography. Las Vegas Nevada is close, not more than 2 hours south of St. George Utah. So, what you have is somewhat of a mixing pot. You have many people migrating to escape the less family friendly environment that could come of urban growth with higher congestion and crime. During 2004 and 2005 a notable portion of our growth was coming from California and Las Vegas immigrants. You also had just as many people migrating from the northern Utah and southern Idaho regions. Both north and south groups contain baby-boomers and retirees.
As Interstate 15 travels north of Las Vegas, it goes through the most trafficked part of the state with the Wal-Mart regional distribution center being located just north of St George in Washington County.

Iron County is situated north of Washington County along I-15 with Cedar City being its main anchor city.

Washington County equates to having more than 60% of the population of all 8 Southern Utah counties.
Southern Utah Real Estate Property Search
Southern Utah Real Estate property listings, besides the main St George Utah area listings, can be found by searching through the link in red below, but you will need to know what city to enter in for your search. We have provided for you, information on southern Utah communities and counties with maps so that you can come up with the name of a city you are interested in. Also, are maps (below) for you to find, pan, scroll and zoom in or out.
Take your below researched city name and type it in at:
Southern Utah Real Estate Property Search. Use this research to search targeted areas or the broad area real estate listings for the communities in Southern Utah.

(If you ever feel that the info. is too limited, just contact us and we will refer you to an agent who can help you with more details on properties for a specific area. To see how representation is free go to Southern Utah Realtor.)
Washington County Utah Real Estate
Just so you know, there is a better solution for you when searching Washington County Real Estate listings. This search will render you pretty much all the property information, unlike the Southern Utah solution for the Washington county area.
The Washington County property solution can be found by clicking on Read More listed below. The Washington County and St George real estate search area accounts for 60% of the areas real estate, which is densely packed as compared to the rest of Southern Utah. This is our mainstay, along with the ability to show those properties to you.
>>Read more on Washington County Utah Real Estate
Hurricane Utah Real Estate
Hurricane Utah Real Estate is perhaps the second fastest growing area in Southern Utah and is also located in Washington County, about 15 miles northeast, mostly east, from St George. A lot of Bureau of Land Management (BLM or government) lands border areas of St George such that some population growth is getting pushed out into the Hurricane area. >>Read more on Hurricane Utah Real Estate
Southern Utah Counties
Southern Utah one could say, consists of an imaginary dividing line cutting across and skirting the northern borders of - Beaver, Piute, Wayne, and San Juan counties. The other Southern Utah counties include Iron, Garfield, Kane and, last but not least in population, Washington County.
For information on county geography, demographics, economy, business, population facts and information, go to the comprehensive list at Wikipedia- List of Counties in Utah.
Southern Utah Communities
Southern Utah Communities hold a relatively low population with a the main cities worthy of mention and a few smaller ones that are more analogues to villages. We will list and talk about the more notable cities and towns. The most populated include St George, Cedar City, and Hurricane located in the southwestern part of southern Utah.
See our scroll-able map for use to pinpoint cities of interest in Southern Utah. We have also listed a description of major Southern Utah cities below.
Cedar City
Cedar City is about 50 minutes north of St George along I-15 freeway. It is located along the southern end of a somewhat mountainous backbone that starts petering out south of Cedar toward St George. This mountain range reaches northward into the Wasatch and Uinta mountain ranges up into Idaho.The economic base contains some commercial businesses to include industrial and space-age complexes, some mining activities, agriculture and tourism.
Cedar City is famous for hosting the Utah Shakespearean Festival that is world-renowned, the American Folk Ballet and last but not least, the Utah Summer Games, which has an average total of 7,000 participants, 50 thousand spectators, and 1,000 volunteers in attendance each year. Cedar City has Southern Utah University to help kick up and maintain such a high level of activity mixing young and old with a culturally western artsy ethic of highfalutin pomp giving a small, but fast growing town a big time festival feel.
Duck Creek
Duck Creek is more like a village and is located 8,400 feet on Cedar Mountain along Scenic Highway 14. Duck Creek Village is a snow mobile haven, offers various scenic attractions and local activities. Some of these are cross-country skiing, snowshoeing, downhill skiing and snow boarding in nearby Brian Head winter and summer resort, hiking, mountain biking, ATV riding, fishing and wildlife photography. Cedar Mountain, also known as Markagunt Plateau, is in the Dixie National Forest and offers beautiful trails, scenic meadows, local streams and lakes, and wildlife.
Brian Head
Brian Head is located an hour and 15 minutes north of St George, Utah or three hours from Salt Lake City or Las Vegas. It runs up I-15 adjacent to some National Parks. Cedar Breaks National Monument is not far away. It is a full service ski, snow board and summer resort. It features sleigh rides, show tubing, snowshoeing, snowmobiling and even spa treatments. There is a wide array of lodging opportunities to fit every budget as well as dinging and lounging.
The Snow Tubing Park is excellent featuring six lanes to choose from that are slicked down like a water slide. Brian Head features a Kids Camp for ages 3-12 and a licensed care facility day care for ages 6 weeks on up. Young and old come be laid back in one of southern Utah's rare treasure trove amenity filled, but small time feel Brian Head resort.
Escalante
Bryce - Tropic
St George
Springdale
Kanab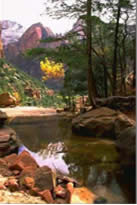 Kanab, Utah is centrally located about 56 miles west of Lake Powell or Glen Canyon National Recreation Area and just above the Arizona border. St George is 80 miles to the west. Kanab is less than 95 miles from Zion, Grand Canyon and Bryce National parks. Closer yet and minutes away are the Coral Pink Sand Dunes, Cedar Breaks National Monument, Pipe Springs and Kodachrome Basin State Park.
Map Search
You will need these maps to perhaps find, pan, scroll and zoom in and out to isolate cities and communities that you might be interested in, in southern Utah. Note that zooming in, is sometimes the only way to get the smaller communities to appear. When you have isolated a city you are interested in searching available homes on, then we have the means above in directing you to a real estate search for southern Utah.
Scrollable Google Map of Southern Utah - click on the negative sign to zoom out for southern Utah, also use your "hand" to pan or move the map; also note that you can switch to a satellite or hybrid view.
St George UT Real Estate Local Area Directory
St George is the anchor community from which Southern Utah Real Estate is getting much more attraction besides the fact that its geological formations sell themselves. So, as part of our real estate for southern Utah we recommend you drop by our St George UT Real Estate Directory for current real estate stats and talk about the area.
Southern Utah
Our Southern Utah page has a plethora of information about the area as well, like: History, Geography, Weather, National Sites, Parks, Monuments, Recreation Areas, Travel & Accommodations, Education, Demographics, Resource Information, Attractions, and Shopping and Dining Services. So be sure to check it out at So Utah!
Thank you for dropping by!!!