Southern Utah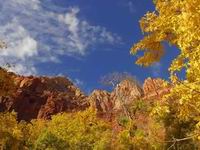 Southern Utah captures the attention and fires the imagination and we are not
just talking about all the fires Utah has had lately. Southern Utah really does hold a lot of charm and many attractions. The scenery is spectacular and often people find better health in the more arid climate. From the grand rock arches of Arches National Park, the deep crevices of Canyon Lands, to the beautiful blue-green water of Lake Powell, and the towering rock sheers of Zion National Park or the towering dominion of Bryce Canyon and Cedar Bluffs or the meandering trails of Kolob Canyon or Red Rock Canyon to the fresh aquifer waters of Sand Hallow reservoir, Southern Utah is a land that leaves you feeling awe struck!

Get to know some of Southern Utah through Brian's trips and movies- Southern Utah Images.

There is information below on Maps, Resource Information, Outdoor Recreation, Shopping, Accommodations, Demographics, Education, and a whole lot more to give you a good perspective on southern Utah.In case you plan to relocate to Southern Utah, we have compiled some information we think you will find helpful. A lot of people learn about Southern Utah when traveling up along I-15 through Las Vegas to Salt Lake City- they go through St George, Utah or the Southwest quarter of Utah, being Washington county. Most of the population does exist in this area as the main vein of I-15 supplies plenty of visitors. In fact, Washington County equates for more than 60% of the population of all 8 Southern Utah counties. (A staggering 109,000 compared to about 70,000 for the other 7 counties combined).
History
Southern Utah is a desert terrain that is unique because of its rock cliff formations, geology and peoples that have settled the area. Early inhabitants included the Native Americans. The majority of immigrants that came later pertained to the Mormon prophet assigning individuals and families to settle the area. The Mormon pioneers are among early western settlers. These settlements contended with sometimes very harsh conditions. Yet these people "stuck it out" almost beyond what would be normally conceivable. They did it because they were asked to and because of their indomitable will and faith. This is part of the Southern Utah history that often goes untold. Their is a predominate progeny, influx and spillover from the Salt Lake City area of the Mormons in Southern Utah, perhaps 50% of the population or there about. Yet peoples of many faiths are increasing in numbers and in taking advantage of southern Utah's unique climate, geology, resources, values, and culture. Of particular group mention today are the retirement and baby boomer populations.

Washington County & St George History

Movie of Saint George Utah Downtown with some historic buildings »
Geography
Southern Utah is known for its geography whether it be the incredible Hoodoos in Bryce Canyon to the wonderful naturally carved arches of Arches National Park or the shear glacier like carved faced rock of Zion Natural Park or the color contrast of reservoirs like Lake Powell waters and red rock jumping cliffs or shore lines that equal more shore line than that of our coast lines- it is desert meets rock.
Maps

The following maps will give you some main city names and help you "get your bearings" as to where things are located.
Weather

Southern Utah weather has the warmer winter months with somewhat of a trade for two or three hotter summer months. It is also very dry and the heat is less intense and not as humid. As some would say, 'the dry heat takes far less of a toll.'

KSL local weather station for southern Utah, located in St George Utah.
VIPIR radar weather, satellite view for Southern Utah through KSL (Salt Lake - north - news channel-- go down on VIPIR console and select Southern Utah.
National Sites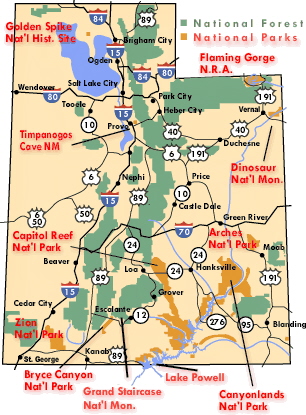 Utah or more succinctly, Southern Utah really is a breathtaking, surreal experience and lesson in National Sites to include Parks, Monuments and one National Recreation Area. No other place on earth delivers the metropolis of Grand Canyon like epic features featuring canyon rock, rim rock trails stereotypical of "western",... desert and high desert sand variation of lime stone green, pale brown and iron red. If you have not experienced it, then you have not lived and found the teaming wonder of life itself, among arid rock, shell and crevice. It as an experience... is as the stuff of life itself, only here you will find... only beauty. (See More...)
National Parks
Arches National Park & Canyonlands National Park


Just as the name implies there are many fine formations of red rock in all sorts of shapes with overlooks, arches and all. Based out of Moab Arches National Park also runs tandem with Canyonlands, a mecca for ATV, 4-wheeling, and mountain biking. Interestingly, rocks can form strong gripping slates for rubber tires of all kinds. A famous, almost straight up accent just out of Moab challenges the nerve of four wheel enthusiasts, called Lions Back, just as the name implies because a few wrecked vehicles indicate a slipper slope on both sides.

Capital Reef National Park

Capital Reef seems to be explored more and more in conjunction with other parks in the area as it runs with the others. However, it is less explored often because of few roads that run through it, albeit along the way.

Green River

Green River has much more to offer in oasis than what you see just off the road out of Green River the town. Those enthusiasts that have been into the back country of the Canyon Lands and other areas will attest that the Green River offers some of the most oasis type feelings. Once having after travails of bump and rock for miles and miles, to come upon the site of Green River in the canyon below, one can only crawl and stumble down steep graded canyon walls into greenery that makes grassy meadows seem like too much to ruin the contrast into red rock- you almost have to look back after resting. And then there is the Green River rafting trips that all kinds of enthusiasts take advantage of the rafting trips just out of Moab, Utah.

Bryce Canyon National Park


Bryce Canyon is a gradual climb and stumble up onto some breathtaking cliff like ranges that are lined with tons of hoodoos, that not only provide foreground, but some good background. Lots of people and horse trails let you scale down into these chimney-like rounded and layered rock features, many of which you wonder if wouldn't just tip over if there was an earth quake. Many of the trails meander in such a fashion that you can stand next to and touch these mammoth, but friendly entities. Trails let horseman and hiker alike explore in deeper reaches the untouched back country- the unfamiliar, but vivacious side of Grand Canyon. To see a good set of pictures and overlook video go to Brian shows Bryce National Park.

Zion National Park


Zion National Park is by the far most visited with nearly 3 million visitors a year. It features huge soaring smooth and rough cliff faced monoliths. The Park is known for these funneling snake like, deep slot canyons with the most famous being The Narrows, which attracts hikers from around the world. Many scout trips and hiking enthusiasts will drop off, up on top of ranges that fingerling, and eventually make there decent for miles of breathtaking "slot", creek bed and water pool (sometimes swimming) adventure. Springdale can be found nestled right up into the canyon at the mouth of the park. If features some touristy shops, petting farm, motels, and a lifelike I-MAX theatre typically with one of the movies featuring the park. A campground is situated near-by for those who like camping and then the park has mandated a busing system for tourists. To see some pictures of Zion Park, a map of the bus routes, video footage of the campground, the Beehive peaks, and about taking the bus, go to Brian shows Zion National Park. You will also see the best external links devoted to Zion Park, which will tell you further about activities, entrances, transportation, visitor center/fees, museum, lodging, etc. For a comprehensive set of pictures taken, go to Brian shows Springdale Utah.
National Monuments

Cedar Breaks

Just up out of Cedar City, Utah there is a somewhat unique location of red rock clusters along the "slid-off" mountain, some cropping of hoodoos, many of which are trying to expose themselves and many that are competing with the founding fathers of Mount Rushmore. The travel course can be experienced coming from Zion or Kanab to Bryce Canyon. You also can travel a loop taking one from Cedar City or Navajo Lake, Cedar Breaks, past Panquitch Lake and into Panguitch. One can also descend into Brian Head winter and summer resort, dropping down to Parawon and back to near by Cedar City if you like.

Grand Staircase - Escalante National Monument

This majestically cast-ed red and slick rock smorgasbord of lizard, sage, and quiet will have you spell bound. A land mass stretching from Bryce Canyon and Kanab on the west to Capitol Reef and Lake Powell on the east encompasses 1.7 million acres- is some of the most beautiful and under explored country in the west. The area is larger than Utah's 5 other national parks combined. The area was dedicated as a monument area, which prohibits developers from mining the area of natural resources and was a bit of a controversy because it was made a monument stemming from a ceremony of Arizona and the Grand Canyon, but no Utah officials.

This picture is produced by the regular state tourist agencies with Photos courtesy of: Brett Jorgensen, Janet Reffert, Utah Travel Council / Frank Jensen. Also Garfield County P.O Box 200 Panguitch, Utah 84759, 1-800-444-6689, www.brycecanyoncountry.com, email: [email protected].

National Recreation Area

Glen Canyon / Lake Powell


Lake Powell is located in southern Utah, is 186 miles long, has 1,960 miles of shoreline and is the second larges reservoir in the nation. It features natural wonders, with aqua colored water against the backdrop of red cliffs that many jump or dive from. Many like to visit in the Spring or Fall when temperatures are more moderate, because in the summer they can reach over 100 degrees. Lake Powell is a paradise for photography and is best enjoyed, many might add, for houseboating. It has inlets, side canyons, coves sheltering indian ruins. It offers fishing that is some of the nations finest. Recreational activities include fishing, swimming, water skiing, scuba diving, parasailing, and boating. There are seven visitor centers with only one being open year round- Carl Hayden Visitor Center, near Page, Arizona, next to Glen Canyon Dam. The National Park Service puts on evening slide shows at Bullfrog and Wahweap campgrounds. (See More...)
Travel & Accommodations
St. George is located along I-15, so it gets a lot of traffic with people traveling through the area. Most enjoy the experience as many "looky-loo's" with real estate maintain passing interest in the area. Incidentally, many investors as well. So, as you can imagine major hotel and motel chains are existent as well as the older and smaller ones along the main drags of St. George Boulevard and Bluff Street. A new Marriott Hotel is also being newly constructed.
Education

One only has to attend a few Chamber of Commerce or city meetings around St George to fully appreciate the depth and commitment toward education. Be sure to visit our schools page for extensive information about individual schools in Washington county. We have only two links to the higher education schools here, of which Southern Utah University is located north of Washington county in Cedar City of Iron county.
Demographics
We shared some demographics already with the population taking place mainly along the I-15 corridor. But what we haven't shared yet is that the census bureau recently reported the St. George area as the second fastest growing city area in the nation.
Resource Information
Many attractions abound here. If you like the outdoors than there are plenty of trips and excursions to take in southern Utah. You can look into these main areas and attractions through some of the links we've provided. Here are two that provide main attractions and also ratings on how good each attraction or city ranks.
Attractions - Outdoor Recreation
The area hosts people that are true to recreation in many areas like biking, hiking, climbing, repelling, camping, ATVing, Off-Roading, Snow Skiing, Water Skiing, Snow Mobiling, Fishing, Swimming and Cliff Jumping. (see also National Sites- Glen Canyon / Lake Powell)
Shopping & Dinning Services
The largest city is St. George and it has most major retail outlet stores including shopping malls, strip malls, Home Depot, Wal Mart, Sears, Costco,
Smith's, K-Mart, Albertson's. There seems to be ample dining with places popping up everywhere.
Come visit us sometime and see some of the most incredible geologic formations on the planet in Southern Utah!!!