St George Homes for Sale
If you've come to search ALL the areas St George Homes for Sale you've come to the right page. Below you will find the St George MLS area homes, the Neighborhoods of St George homes for sale, and all the areas cities & neighborhoods that pertain to this area. St George Utah is the main hub city from which all these other local Washington County homes reside. Read More
Homes for Sale in St George Utah - Neighborhoods
MLS Areas (Washington County)
Hurricane Valley (Cities)
NW Washington County (Cities)
---
St George Homes for Sale

Many vacationing enthusiasts or snowbirds seeking warmer weather and nice scenery are enamored by the unique architecture of the areas Southwestern styled homes for sale in St George Utah. As a result, there is a significant amount of second homes in the area. Many love the red dirt or red rock high mountain desert scenery or to be able to travel locally to places like Zion, Brian Head, Lake Powell or Bryce National Park, for easy getaways.
Besides the Southwestern design there is a Mediterranean and Tuscany influence, having stucco, stone or earth-toned brick finishes or soffit accents, to include not just uniquely styled eaves but also unique arches, balconies, or front porch patios.
Add to that the more modern tiles or kitchens or backsplashes and the ensemble contrast quite nicely and sometimes in stunningly beautiful ways. This can be seen in both the luxury homes as well as the starter family or new retirement homes.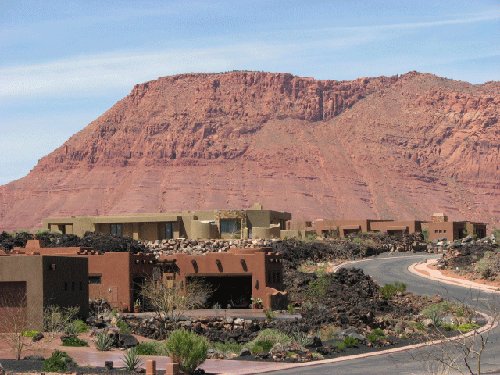 The new airport, Dixie State University, and second homeowner tax base are some factors supporting a lower cost of living for working families and individuals.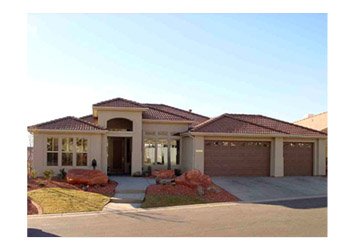 Areas like Bloomington, Southgate, Bloomington Hills, Foremaster, or even Red Cliffs have already established neighborhoods, while other areas like Little Valley, Green Springs, or Washington Fields are still growing and expanding with new construction. Yet all these areas contain some mixture of the working class as well as vacationers or retirees. Also, there are some exclusive 55+ communities, even if a lot of these are condo/townhouse developments.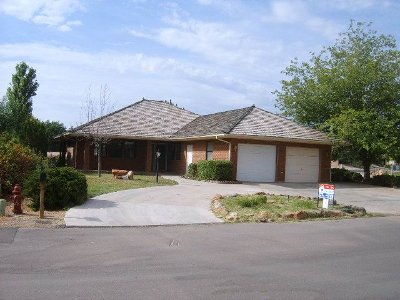 St George is built out around golf courses and contains a variety of developments containing both new and old construction types of dwellings. Even in older more established areas, the beauty of the area encourages people to upkeep their older homes. As such, renovated older homes with mature landscaping often competes with the new construction homes, helping to keep prices stabilized.
Older neighborhoods do allow for the more affordable starter home opportunities and for the occasional fixer-upper, although a little more scarce lately. In the lower price ranges, say below 200K, the available supply of homes for sale in St George Utah is running low, so one can augment a single-family search with condo or townhomes.
Families with strong educational values are typically glad to find schools that support good environments. Test scores in these schools are often higher than state and national averages.
It is not difficult for people to fall in love with the homes because our homes very much follow the natural landscape in color and roof profile, naturally having less steep angled yet hipped roofing lines, making them more earthy, while still modern; less urban-like. It may not be uncommon with the nicer executive homes to see a little bit of the Mediterranean theme creep in with the courtyard, maybe a fountain or smaller water feature to conserve on water, but none the less accomplish the getting back to nature feel. So, some people find they have both the shopping convenience of being close by and the less urban city like feel here.
Also, many of our developments are around golf courses and so do not have the square 'cookie-cutter' feel to them at all.
Whether you are a first-time homebuyer or million-plus dollar home buyer, I am equipped to advise you with the information and representation you might need.
Many of the homes are designed to blend in with the beautiful desert environment. The neighborhoods and communities are well-planned, with golf courses, parks, waterways, and numerous walking trails.
St George Market Statistics
Please feel free to have us do a custom report for you. This market report consists of Sold and Active listing activity for the last 3-4 years [broken out in monthly bars] in one easy to read bar graph. It will tell the current [up against past] Inventory Level and Absorption Rate (how many months it will take for the current Actives to sell if no new ones come onto the market).