St George Regional Airport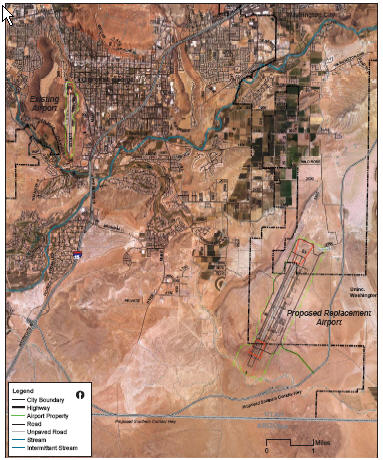 The new St George Airport is now opened for flights and business. With emphasis on the second part, officials tout and couch the new opening in a most favorable light for what the new airport is already doing- providing an economic shot in the arm.
St George city manager Gary Esplin reports:
"This is like the next stage for St. George, because now it gives us the opportunity to go after companies that we couldn't go after... It gives us a presence in competitions where we never had a chance before."
I say hats off to St George city officials who are amazed, at even themselves for once, in how much has been accomplished in such a difficult time and down market. Hats off to Mayor MacArthur who once reported to an assembly of Realtors at the Sun River ballroom, that since the federal government cannot pay their half of this project right now, we have money in savings, so we'll do them an advance and finish it ourselves.
Where can you find that kind of city clout these days? I say it is a miracle when we have other city, state and national governments unable to curb deficits when St George had savings on hand to do what was difficult to do for most America. Congratulations to St George city officials, for balancing our ledger and curbing our expenditures. They did it in a responsible manner enough to see this project through. There has been some "bridges" and things built here that need to stay, and stay they will. You'll have to ask Mayor MacArthur for the rest of that one and he will recite you verbatim that poem he once told me about bridge building. He has such a keen way with motivational speaking and in using poems with people, you come away feeling exhilarated. Such has been all who have worked tirelessly on this St George Regional Airport project.
St George has been growing so fast that the smaller commuter jets could not keep up. We now have the bigger jets as well as that local ability of businesses to fly and receive freight.
If you will notice on the map above, on the left hand side toward the middle top area, you will faintly see the black lettered words "Existing Airport". That is in the past and not longer true. So, you can see where the old airport was located. The new St George Regional Airport is located on the same below aerial map, on the bottom right and it is on a NE and SW angle or slant and the black lettered words say "Proposed Replacement Airport". This is where the new St George Airport resides.
One of the largest environmental impact studies was conducted and concluded that the noise pollution, especially over Zion National Park, would be minimally acceptable. The airport will has a single runway to accommodate larger regional jets and Boeing type jets. The runway is supposed to be 9,300 by 150 feet with future plans for it to be extended to 11,500 feet. The airport has an Air Traffic Control Tower and precision approach instruments. Partial funding for our St George Regional Airport was slated to be coming from the FAA totaling 24.2 million. The total project was expected to cost between $170 million to $190 million. Construction for breaking ground took place in 2008 and anticipated completion took place January 2011.
St George Aerial of Old St George Airport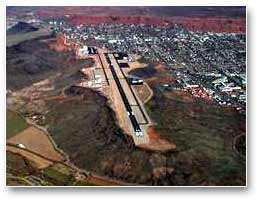 This below photograph details some pretty awesome views of St George off to the right. The old St George airport is just to the left of that and is proposed to become a mixed housing project. You can also see Santa Clara and Ivins further still to the west. The red canyon rock-fall and peaks in the upper center and a little to the left, or to the west, features a drive, along which is on your way out to Snow Canyon State Park. In real estate terms it is called Snow Canyon.