St George Utah Things To Do
The number of activities available and St George Things To Do in the area are virtually limitless.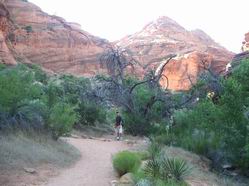 I will start with some of my favorite things to do. First, I like to go boating on Sand Hallow reservoir.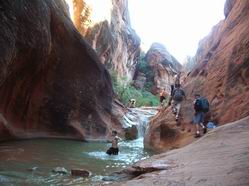 Next, for small town hiking enjoyment I really enjoy this little half mile hike that meanders up a miniature Red Rock canyon at the base of Pine Valley Mountain. The take off for such is nested in the Red Cliffs campground about 10 miles north of St George, just south of the town of Leeds. My kids and I like the little naturally made water slides involved in two water pools- spots where the waters erosion over time has naturally carved out a bowl shaped area, a swimming haven for summer fun and enjoyment. I've also taken the boy scouts repelling off the near by rocks.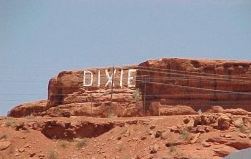 The next little exploratory hike is about a half mile north of down town St George up in its red cliffy area called the Sugar Loaf, where an outcropping of its jagged bluff edge can be seen from Dixie many places in town as it has a big white DIXIE planted across its face. Up next to this are little trail heads to explore the real close local cliffs. One part features a huge crevice that has become a somewhat famous little spot to explore and traverse its inner workings. It offers nice shade and a welcome cooler exploration spot. As you meander up its length, you won't be winded too bad, but you won't be short of breath except for stopping at one part to 'squeeze' through to get to the other end. It is mellow enough for older adults even if you want to just traverse one side and not worry about the tight spot. Local groups are sometimes brought up there to traverse its furrow.
St George also has some very good places to explore dining at. Also familiar are the strip mall shopping and various places for indoor or outdoor miniature golf or just hitting the down town main street shops and meeting square to take the kids a walk through a waterfall and shooting splash pad, then on over into the pioneer like with red rocks on the outside, new library with the new city Carousel rides they have set up for 50 cents each a kid outside.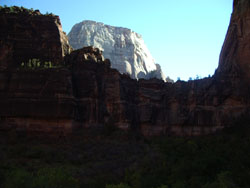 Next are little hiking trails, about a half mile to a mile hike into Snow Canyon lava tube caves. These are black cavernous caves burped and bubbled up admits the black lava rock flows that used to come down out of Snow canyon to fill the flats below composing part of Greater St George. Bring your flashlights or little head lamps and some water. Then you can climb the focal center rock hill that provides panoramic "take your breath away" views of Snow Canyon state park.
As a family, we've been snow tubing in the winter up in Pine Valley or just past Veyo in the gravel pit areas. Snow skiing and night tubing and skiing are available at Brian Head Ski resort about an hour and fifteen minutes travel north just up past Cedar City, Utah. Plenty of local repelling sites dot the local landscape up above the Green Valley area, in Snow Canyon and on the traverse up to Winchester Hills called Cougar Cliffs, each of these areas providing scenic hiking. We've also been out to the Bloomington caves caving into some deeper caving experience.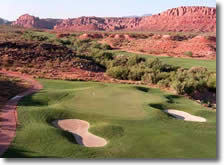 St George offers a wonderful biking and walking trails system throughout the entire area, many of the byways finding connecting routes to the next section of town. Water sports are available at the San Hallow Aquatic center on the Santa Clara side of Greater St George and at the new Washington City Center. Both places feature water slides and small lazy river sections as well as lap pools not for children. Also available are the Sand Hallow and Quail Lake reservoirs, which both are just big enough for boating, tubing and wake boarding. Sand Hallow also hosts ATV and off-roading to enthusiasts that attract this kind of thing.
There is much to do about shopping in the St George area with a mall, strip mall, and many factory outlet stores. The downtown area and Bluff St as well as St George Boulevard have many miscellaneous shops. Restaurants are plentiful throughout the area and there seems to be no end to the new ones cropping up.
Zion National Park - Rock Monolith Grandeur Outdoor enthusiasts will enjoy Zion National Park and beautiful Snow Canyon. Bryce Canyon and Cedar Breaks are only a short drive away, as well as many other beautiful parks and camping facilities. In addition, there are numerous lakes and reservoirs available in the area.
Those seeking cultural activities will enjoy Tuacahn (outdoor amphitheater), St. George Musical Theater and the Shakespearean festival, as well as a number of museums and other cultural events.
There are countless recreational opportunities available including: golf, tennis, water sports, hiking and much more. Listed below are a few suggested activities:
Over a dozen golf courses--some are world class.
Spectacular rock formations with wonderful climbing/rappelling opportunities in nearby Zion National Park.
Several nearby ghost towns
Hike, camp or just hang out in red sand dunes at Snow Canyon State Park
Swimming in the Aquatic Center
Visit the Red Rock Mountains
Mountain Biking
Fishing in urban ponds, Duck Creek or Panguitch Lake
Enjoy over 25 parks
Camping and Hiking in State Parks
Run the St. George Marathon
St. George is laced with parks, scenic pathways, and golf courses.
Internationally-renowned health spas.
International Huntsman Senior Games
Nearby lakes and reservoirs such as: Sand Hollow, Quail Creek, and Gunlock (provide fishing, boating, water-skiing, jet-skiing, rock-diving, swimming, scuba diving, and camping).
Educational & Sports Opportunities
Outstanding Washington County School District
4-year programs
Senior programs, including a wonderful Elder hostel program
Community education classes
Dixie Rebels Football, as well as other college teams
Near-By Excursions
Zion National Park (50 minutes)
Kolob Canyon (25 miles)
Bryce Canyon National Park (2 hours) - miles of limestone cliffs
Cedar Breaks National Monument (1 hour) - 1,600 year old pines
Anasazi Indian Village State Park
Capitol Reef National Park
Coral Pink Sand Dunes State Park
Escalante Petrified Forest State Park
Skiing at Brian Head (1.5 hours)