Historical Statistics from 2004-2012
Welcome to our friendly local St George Ut Real Estate market statistics updates. We wanted to make available comprehensive realty related information and pertaining to the area FOR YOU!
St George Ut Real Estate Statistics
When examining our market statistics, we start with the foreclosures because they seemed to have set the pace for pricing in our market.
The Last Two Years of Residential St George
Foreclosures

Sales Through July 2012

The below graph represents residential St George Foreclosures sales through July 2012. The number of active St George foreclosures on the market is below 60, down from 240 back in April of 2010. This represents one fourth of what it was two years ago. And you can see that there is a significant reduction of foreclosures that dot our landscape now.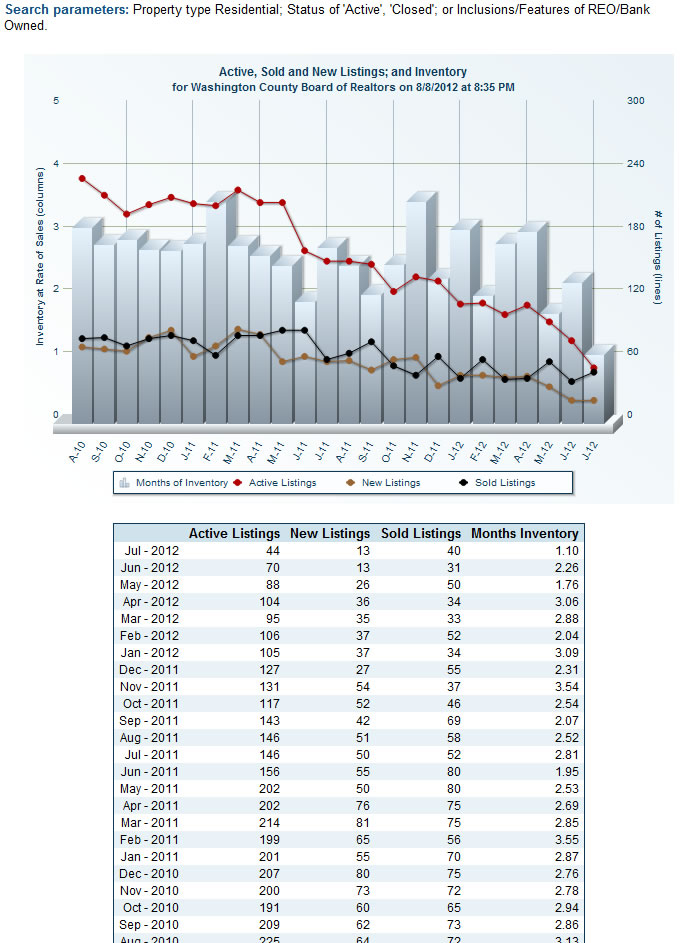 All Residential
St George Sales (
Without Distressed Sales
) Through November 2010
The supply or number of St George Homes loading onto the market is actually increasing over and above the amount sold by a small rate. This real estate market statistics trend could change.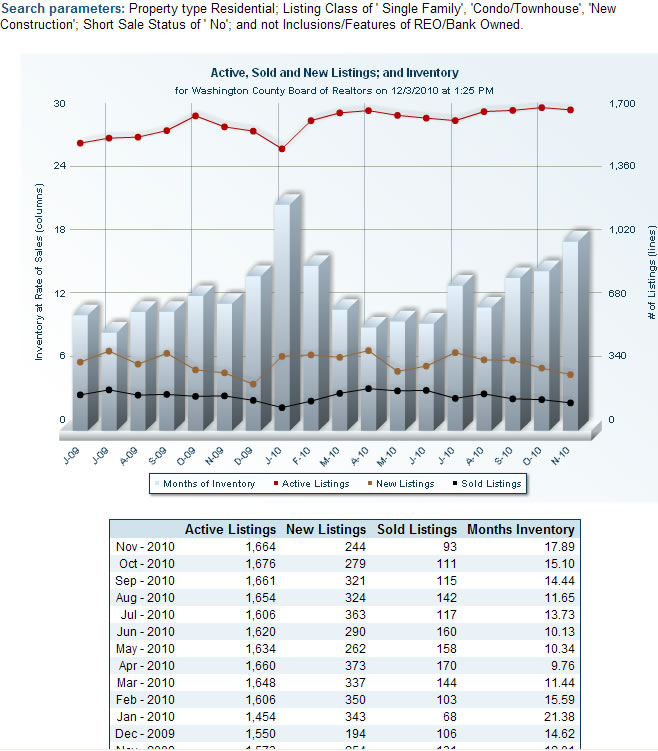 A recent trend may be indicative of the future regarding our Notice of Defaults decreasing. However, St George real estate conditions and trends seem to go off several factors.
Our most recent reflections on the St. George Utah real estate market can be found on our blog.
All Residential St George
Short Sales
Through November 2010
The St George short sales parallel a pretty consistent process of new ones coming on being about the same that leave the scene, either as a sold listing, reclaimed listing (people started to make their payments again), or in having slipped into being a foreclosed property or a foreclosure now.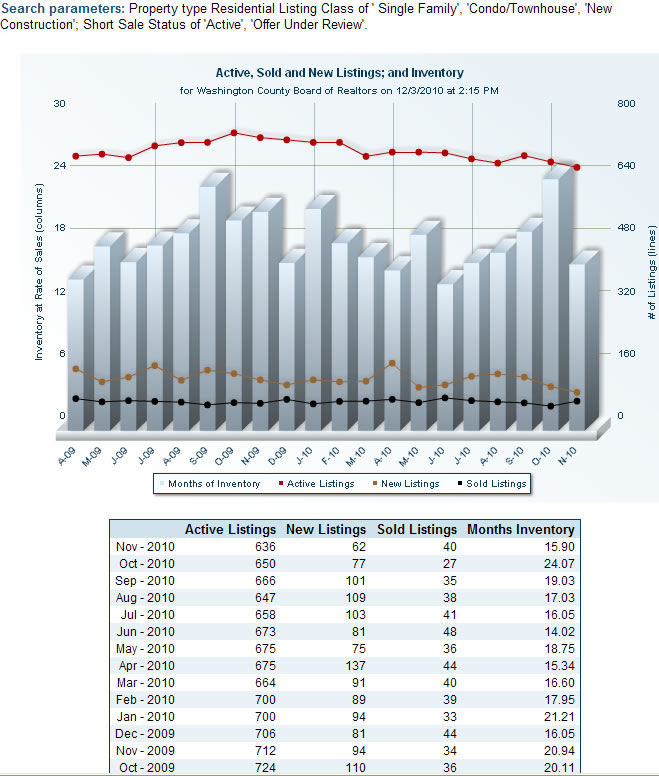 St George Residential Sales Through July 2010
An update on St George Ut real estate statistics shows a pretty steady rate of residential sales both coming on and off the market. July shows some minor slow down. To read some more on the time proceeding on up to April, see the paragraph and explanation in a below paragraph. Up to July graph shown here below: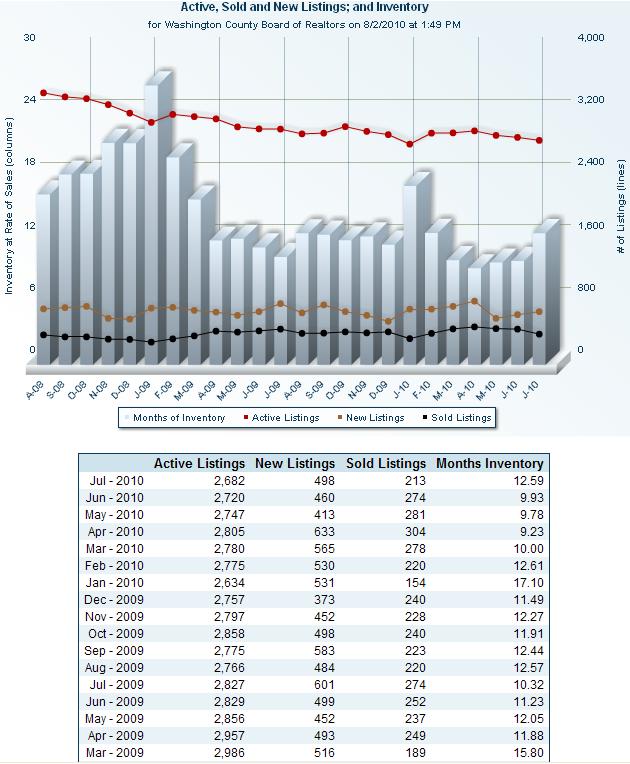 Residential Foreclosure Sales from 2008 through July 2010
The residential foreclosure market is most interesting. One report predicts a fair amount of foreclosures for 2011 as well. The number of foreclosures can often parallel what is called the Notice of Defaults, which are notices that the home owner has not been able to or has quit making their house payments. This number has been down, such that combined with the last three months one could also point toward a start to a diminishing inventory or stock build up of the foreclosures. See the graph and numbers below to study the rate of new foreclosures coming onto the market versus the number of sales. One way to think of it, is like a river that feeds a reservoir. One can ask if that river is shrinking up, while the river going out of the reservoir, or the number of sales, is still maintaining a steady rate. At least this appears to be a pattern over the last three months, being May, June and July of 2010. The foreclosure stats are show here below: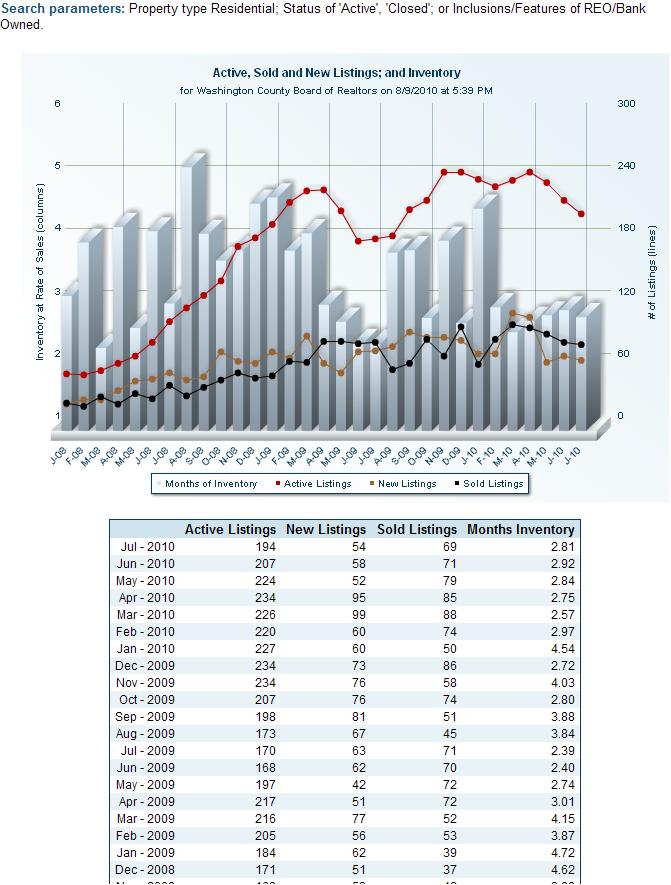 St George Area Absorption Rate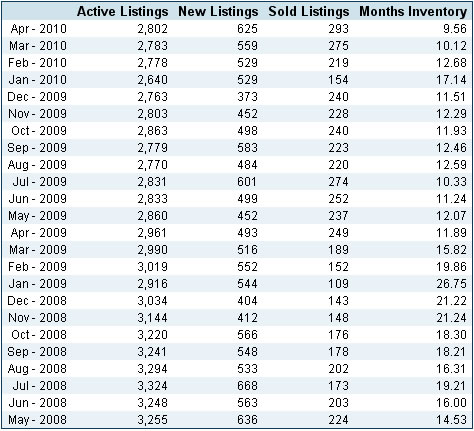 The months inventory column describes the number of months AT THE CURRENT SELLING RATE it takes to exit or sell that current number of listings on the market. January and February are slower than normal and should not be taken too seriously as indicating market trends. This is especially when you consider the same pattern last year of 2009. March and April 2010 have shown that the new activity level of February that was subjectively felt did pan-out in an increase of sales eventually in March and April 2010. And May 2010, has also felt feverishly active.
Further updates on the market are discussed at Brian's St. George Utah Real Estate News Update Blog
Also, you can compare that to that national real estate market at Current Trends in Real Estate in General - a Realty Times update.
Background Market Data for the St George Area
One of the lowest housing appreciation states used to be Utah. That is one reason why there was such a rush on our area. Although our real estate market statistics showed that we spiked fast and hard in Southern Utah, and what went up, did come down... still we never really appreciated as high as some other Southwest U.S. real estate, in major cities. However, local perception may not perceive this. As such, local buyers may have helped work on values to get them down to overall favorable conditions.
St George Utah experienced some of the highest housing price appreciation in the nation during 2004 through early 2006. It can be explained by a lot of investors, baby boomers, and buyers alike, seeking that last frontier of affordable housing. The Californian buyer could come out here and retire in style. Once that market seized up, so did St George. What went up, has come down to 'pre-state' values.
Washington County Economic Summit 2010
Washington County Summit 2010 Power Point Version
For current 2010 Economic Summit Information about the new airport.
Washington County Economic Summit 2009
St George Ut Real Estate Market Attractions
Southern Utah Real Estate - National Projections
Nationally, projections have been made regarding New and Existing Home Sales- these are below on the left. On the right is how valued Southwest Utah real estate is, in Washington County, based on the Price to Income and Rent Ratio. Both these graphs are taken from Moody's Economic.com. Notice how Southwestern Utah, containing St George Utah is rated as "Correctly Valued" real estate in the light blue color. One could incite how, since we are not 'overvalued', than an investment here on ones money, appears to be a 'safer bet'. These graphs have been taken during the last quarter of 2008.
St George Ut Real Estate Historical Prestige - What Others Have Said
In 2000-2006 St George Utah was the Fastest Growing Metro Area in the Nation!!! It ranked first, for overall best cities for doing business by Inc.com. Forbes magazine ranks Utah No. 4 for "The Best States for Business". Kiplinger ranks St George at the top of their top ten lists for "The Best Places to Retire". According to the Third Annual Most Secure U.S. Places to Live rankings from Farmers Insurance Group of Companies, the most secure location to live in the United States is St. George, Utah, with the rankings being compiled by database experts at www.bestplaces.net.St George Ut Real Estate History
St George Ut real estate history includes land being in short supply just before the boom of 2004 to 2006. Also, the city of St George had held back on building permits and we were caught with not enough product on the market when all the speculators came in here. This is our point- St George is attractive, a last standing sentinel of red vista color off the desert bottoms at 2000 feet in elevation just before you head upwards into colder weather. As such, scenery, centrality and mild winters mark the hustle and bustle here. Because product was scarce it artificially drove up prices and what went up did come down. Well, the building crews overcompensated with too much product causing things to really come back down when the housing economy happened to go south for the rest of the nation. This overbuilding really puts a damper on the feeling of safety in the housing market. But make no mistake St George's mystique is real.
As such, our feeling is that we really haven't got our full up and comings as time may bear it out. We haven't seen that steady and hardy increase of acclaim with St George being one of the newest and hottest places on the map in the Mid-West where retiree's flock. Additional businesses will come with the presence of our new airport in 2010, and where hosts of truckers and travelers continue to turn heads when driving through. We are still small enough for locals to appreciate the cities growing amenities for both family and retiree fun. The world famous Huntsman senior games are here and they will continue to grow.
We realize that some of the below information is historical information, but we opt to keep it here so you can see the history of real estate here in the St George Ut area.
Washington County Economic Summit Information
Summit 2008
Click to go to the 2008 Washington County Economic Summit
Summit 2007
Total Sales for Washington County and the St George Utah area.
Home Sales Nation Wide as Related to St George Ut Real Estate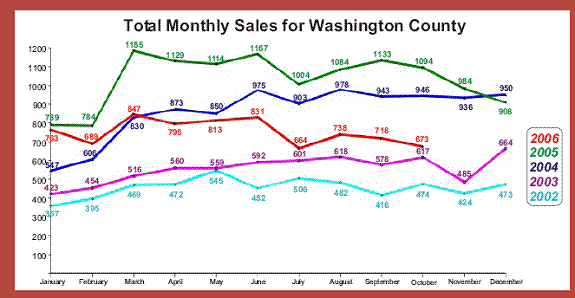 St George Ut real estate had 31.6% price gains for2004 to 2005- the fourth fastest in the nation, the Office of Federal Housing Enterprise Oversight says. During the first quarter of 2006, St George ranked No. 1 in home price appreciation. However, an abundant production meeting supply demands crashed bringing huge price reductions since that time.
These messages are brought to you by the Brian Habel team. None of this information is guaranteed to be reliable, but merely as "our best educated guess" as to what the market is doing, based upon some data and reporting stations. Each viewer is responsible to verify all information.
These messages are brought to you buy the Brian Habel team. None of this information is guaranteed to be reliable, but merely as "our best educated guess" as to what the market is doing, based upon some data and reporting stations. Each viewer is responsible to verify all information.
St George Relocation
For our buyers, we know that it can be a tough consideration and time in thinking about St George Ut real estate. It entails picking up and moving, and changing locations. It can be all so anxiety provoking, if not exciting at other times. We specialize in bringing you what you need on this side to make it work. Remember it does not cost you anything to use a realtor when you buy real estate in St George Utah. Let us help you make what is stressful already, be a smooth and enjoyable experience. St George Ut real estate will always be a good bet, an we can help make it a realty for you!
Area Map