St George Lodging & Resort Accommodations
St George Lodging and accomodations abound. While Washington County offers some diverse landscapes, you can find most of the lodging there is to offer in St George or along through the Hurricane Valley. We know that many of you have various reasons for staying here and hope you find the hospitality that most have come to feel accustomed to here in the St George Area.
St George Lodging
We have placed a couple of resources below that should encompass all of your St George Utah Motel and Lodging needs. One of Utah's "hidden treasures" to be had is in staying at the Green Gate Village Historic Inn which includes 14 buildings restored to early Victorian or upscale pioneer refinement period. Also, you can book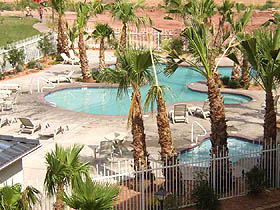 weekly rentals on resort condo's and resort apartments. Two major players are the Sports Village and the other is Green Valley Resort (Websites with large lists: both Sports Village and Green Valley). I know somebody personally at Sports Village that rents his condo out between $130 to $160 a night and if you rent it for a week you get 1-2 nights free. You can reach him, Randall Spencer at 801-426-8200 or at [email protected].
Websites with lists involving other areas in and around St George are: Vacation Rentals By Owner and VacationRentals.com.
Main Links:
http://www.shoppingstgeorge.com/Directories/lodging.htm
http://www.utah.com/lodging/stgeorge.htm
We may have a corporate rate arrangement available through Holiday Inn. Mention Brian with RE/MAX as your realtor, and depending on how long they decide to sustain this offer, Holiday Inn will give you a room rate of $82* or so. *Offer depends on confirmation with them and current going rates. This arrangement was discussed with a David who works there on 7/8/07 and is subject to change. At the time he said the regular rate is $119.
Southern Utah Lodging
This link is of the major tourist destination stops in Southern Utah: St George, Lake Powell, Moab, Zion Park, Cedar City, Kanab, and Bryce Canyon.
http://travel.southernutah.com/
This second link here is inclusive of some of the rest of Southern Utah Lodging to include Cedar City (if you scroll down), one hour north of St George.