St George Utah Retirement
If you are looking for retirement in St George Utah, then you have come to the right place. As you might know, Kiplinger's lists St. George on top as the best place to retire. There is something about the good old American West that attracts pioneers. In the 19th century, they came by wagon train to settle Utah's Dixie- Southern Utah.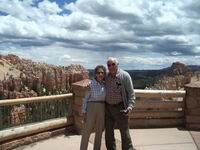 Now, the retirees are arriving by trains, planes and automobiles. Access our St George Utah Retirement Communities. They come to find clean air, affordable housing, and natural beauty. The high-desert climate with its mild winters and average of 300 sunny days a year, make the St. George area a popular retirement destination. Now is the time to take advantage of St. George, Utah retirement, featuring year-round outdoor activities including: golf, hiking, biking and swimming. Come and immerse yourself in the most spectacular scenery in the country; a valley surrounded by red rock, rolling hills and bluff, red dirt, beautifully landscaped green golf courses, and snow-capped Pine Valley Mountain (a short 30 minute drive north).
Retirement Planning