Steve Stout - One of a Kind Mortgage Lender
SGI Mortgage, LLC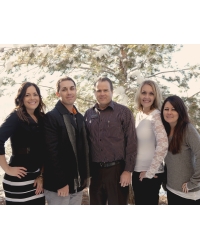 Steve Stout
Cell: 435-467-1090
Phone: 435-674-1090
Toll Free: 877-674-1090
Fax: 435-628-6659
1173 S. 250 W., #208
St. George, Utah 84770
He is the best with 18 years experience. He is honest. He puts his clients interests as primary. He advises people the right course for their own plans and objectives. He is a straight shooter.
I suppose you could get a crooked shooter in a mortgage professional, but then some of them just shoot straight. Steve is that guy.
Actually, he loves to shoot the open long bow, as in bow-and-arrow, archery. This activity takes finess and skill. You have to pressure the bow into a non-holding position, such that when fatigue at the end of draw on the string mounts, you have to let go before it troubles you. This would have to be Steve, he's invested to the end of what is doable for you and is able to let go of that arrow with you, right at the right time. Give him a call because the least of the things he is, is scary. He is about the most warm and friendly they come. Good luck!
I used to be all about making sure my buyers for sure were never exploited by a Mortgage person by finding just the right one that I could refer. Well, I found that and now after 5 years of referring people, I can only report happy people. Go figure! So, I am openly admitting that I have a bias. I suppose Steve could be one of these Lenders that has a smile and twinkle in his eye while dooping those he meets for more than his fair share on the back end. I suppose Steve, like many a Mortgage broker for St George, coud be doing that. You hear about those things, good people in good circles succumbing to pressures and pressure to scrape a little bit more off the top or swindle a deal here or there.
I suppose you could never really know who to trust. But not me. I trust Steve. So, I'm openly admitting to a bias and have to say that I not only know one good Lender, but others... such that I can leave options open to my buyers and never become contaminated with that shady side of the street even when it would othewise be innocent. I suppose. Well, if you really need, I'll refer you back to the page where more than just Steve resides, so that I can keep myself clean in recommending more of our St George Mortgage - Preferred Lenders.
I'll tell you a little about Steves model for business. He has been in the business for 18 years and is competitive (and always fair) looking to secure the best interest rate and overall cost to you. First, let's get this straight- you won't feel any sales pressure from him, so you can call him anytime. For him its either obvious as to what you might want naturally or Steve doesn't want it either. He goes off your situation as to the right loan program to suit you.
He is an FHA/VA approved lender also, which is a huge plus in this market where these government backed loans are becoming more viable. He is conservative while still very creative with what he suggests and recommends, so that is why I know he will serve those I send. He has integrity with people and is friendly and responsive to your direct situation. I try to get people to Steve because THEN I KNOW they will be getting good service. It reflects on the kind of business I can in return, generate long after OUR real estate transaction is over.
Talk to your St George mortgage broker who has his pulse on interest rates right now.