Brian Habel
I would like to share a little about myself. I moved to St George from Cedar City 18 years ago to take over my father's real estate business. As a result, I have many colleagues in the business that either know me or knew my dad who had a great reputation. This often does help us when we go to help you buy or sell. I've noticed many times, just because they like me, many agents will try to do what they can to "do the deal" because it's me.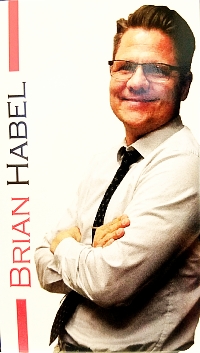 I believe my strength is in negotiating and in utilizing the best angle to benefit my buyer or seller. Also, I have a great rapport with my clients, an excellent knowledge of the area & elements in dealing with property, and not to mention having the most complete, comprehensive & trafficked website of all Realtors/Brokers in town. I'm more responsible than the average agent. I am personable, but astutely putting forth the best angle for you, even if it means getting up and assertive on your behalf! For instance, if representing you as a buyer, I'll let the listing agent know my observation "right off the bat", calling attention to -if it has been on the market too long- for what that is, setting the stage for either the needed scenario for a price reduction or a lower offer that takes that into account. They are not getting off the hook.
I do attend to the myriad of items and details. For Sellers, it does not hurt that I have the most traffic in town- eh? Do you think that could matter for you? I am Market-Savvy - Tech Savvy, providing you with the most exposure to the market with professional photography and marketing, for the most complete selling experience.
My staff and those I surround myself with take excellent care of the individual. I have assembled a team of specialists in mortgage, appraisal, home inspection, and title work to help with purchasing that special piece of real estate. I specialize in working with investors, vacation property, retirees, 1031 exchange clients, divorcees, and couples. My knowledge and ability to harness resources on behalf of my clients, use influence for them & make friends, sets me apart from other agents.
A five-year background as a general contractor provides me with an awareness of details involving the various elements of housing, rudiments affecting markets like construction costs, variables impacting land/property, selling, and acquisition.
I have also received training in sales negotiation and know how to help you maximize your negotiation experience. This is money in your pocket. I also have a Masters of Arts in Counseling from St. Martin's College, a background that helps me to ethically represent, with professionalism and integrity, the arrangements between buyers and sellers.
I know that my success is proportionate to the level of service & value I provide to my customers. I go the extra mile for my clients to offer them every advantage. My past clients will readily attest to this and recommend using me for all of your real estate needs. Please reach out to me, Brian, anytime at my Cell: 435-632-0250!